The Academy publishes five series of publications:
Scientific works of the Academy members and other scientific workers that are impor tant and of permanent value;
Publications –proceedings from scientific conferences, round-table discussions and other meetings;
Commemorative volumes of the Academy on important figures (academicians above all) and events at the Academy;
Yearbooks of the Academy where organizational issues, programs of activities, activity reports, different events, bio graphies and bibliographies of the Academy members, etc. are published;
Rulebooks of the Academy, brochures, leaflets. The Academy publishes its regulations: Law on the Academy, the Academy Statute and different rulebooks and other documents.
The Academy has published all five kinds of publications.
Twenty-one publications were published in total. Here are some of them:


PROCEEDINGES:
Serbian Spiritual Area,
Dusan's Code,
Division of Responsibilities,
Pavlovics' Land,
150 Years from the Birth of Mihajlo Pupin,
Serbian Revolution 1804-1815 and Bosnia and Herzegovina etc.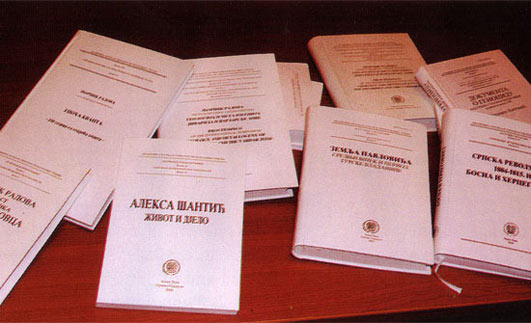 YEARBOOKS:
First book -Founding Assembly and Founding Members,
Multivolume Yearbook (1977-2004), and
the Academy brochure (2004).
COMMEMORATIVE VOLUMES:
Two of them were published; the first one is on the Academy (1996) and
the other one on the former Academy President academician Slavko Leovac.
RULEBOOKS:
the Academy Statute was printed as a brochure.

Every year scientific works, commemorative volumes, proceedings and other publications are published.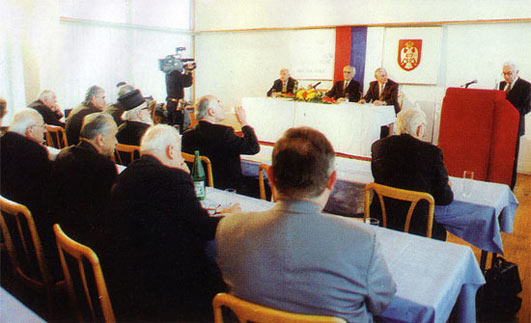 The Academy library with its documentation is being formed constantly. The library fund is still at three locations (Banja Luka, Bijeljina and East Sarajevo). The library will soon (when it moves to a new building) be united.