The Assembly of the Academy
The Assembly of the Academy
The Assembly of the Academy is the Academy management organ. The Assembly consists of all regular and corresponding members of the Academy. The Assembly is convoked at least once a year. The Assembly is convoked by the Presidency upon its own initiative, after the proposal from two sections or at least five regular and corresponding members. The regular annual Assembly is opened by the Academy President's appropriate speech.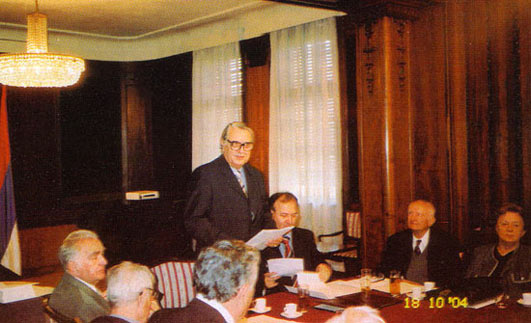 The responsibilities of the Academy Assembly are: to pass the Academy statute, to make decisions to establish new sections, prepare the Academy plans and programs, addresses fundamental issues arising from the Academy everyday work and makes appropriate decisions, elects the Academy members, elects and releases the President, Vice-Presidents, Secretary General, and the members of the Academy Presidency, approves the election of the section secretaries and their deputies, prepares financial plan and adopts the Academy final bill, approves certain acts passed by the Presidency and performs some others duties defined by the law and Statute.